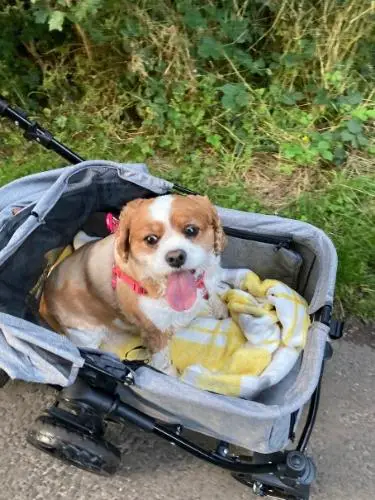 As stated in many of my posts, our Cavalier, Lady, is getting older now, and going on long walks with her can be troublesome. So we invested in a doggie stroller to assist when we go on a walk.
For those of you that don't want to read the full story of how we tested out the stroller, you can find it here on Amazon but I need to tell you that I will get a few pennies from Amazon for recommending this product to help with the costs of running this website. However, I will only add products here that we recommend and have tested ourselves.
The Reason We Bought It
My daughter and her boyfriend had decided to go to a mini-festival at Clapham Common, London in 2021. After the lockdown, they were desperate for a bit of normality.
Their friend was going to drive down there, but for whatever reason, announced that he was no longer able to a few months before it began. Train tickets had now increased in price dramatically, as it was getting closer to the actual day, so my daughter and her boyfriend were in a spot of bother.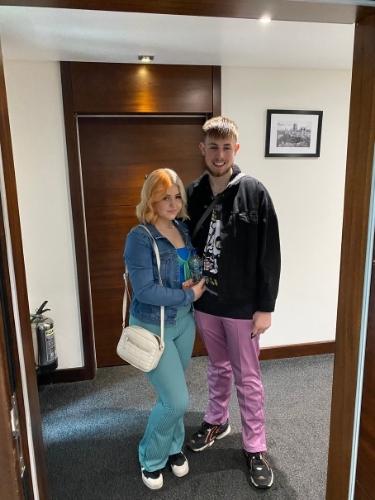 So my wife and I decided to drive them down there, and we could all stay in a hotel and make a nice weekend of it. After all, we'd been in lockdown and needed a bit of a break ourselves.
So I then began to look for dog-friendly hotels, so that we could take Lady with us, after all, she is part of the family.
As Lady is 10 years old and had an operation on her hind leg a few years ago, she's not into enormous walks, and as we wanted to see the sites, whilst Livvy and Alex were in the mosh pit (or whatever the kids call it these days) we had a bit of a conundrum.
My wife, Sarah, had seen doggie strollers on the internet. At first, I thought it was a ridiculous idea, but after some 'persuasion' from Sarah, and by persuasion I mean that she fell out with me and argued until I gave in, we decided to buy one.
Sarah did lots of research and found one with fantastic reviews, wasn't too expensive, and not too cheap either. My dad has always told me "buy cheap, buy twice" and he is right, but there's nothing wrong with a bargain is there?
The Stroller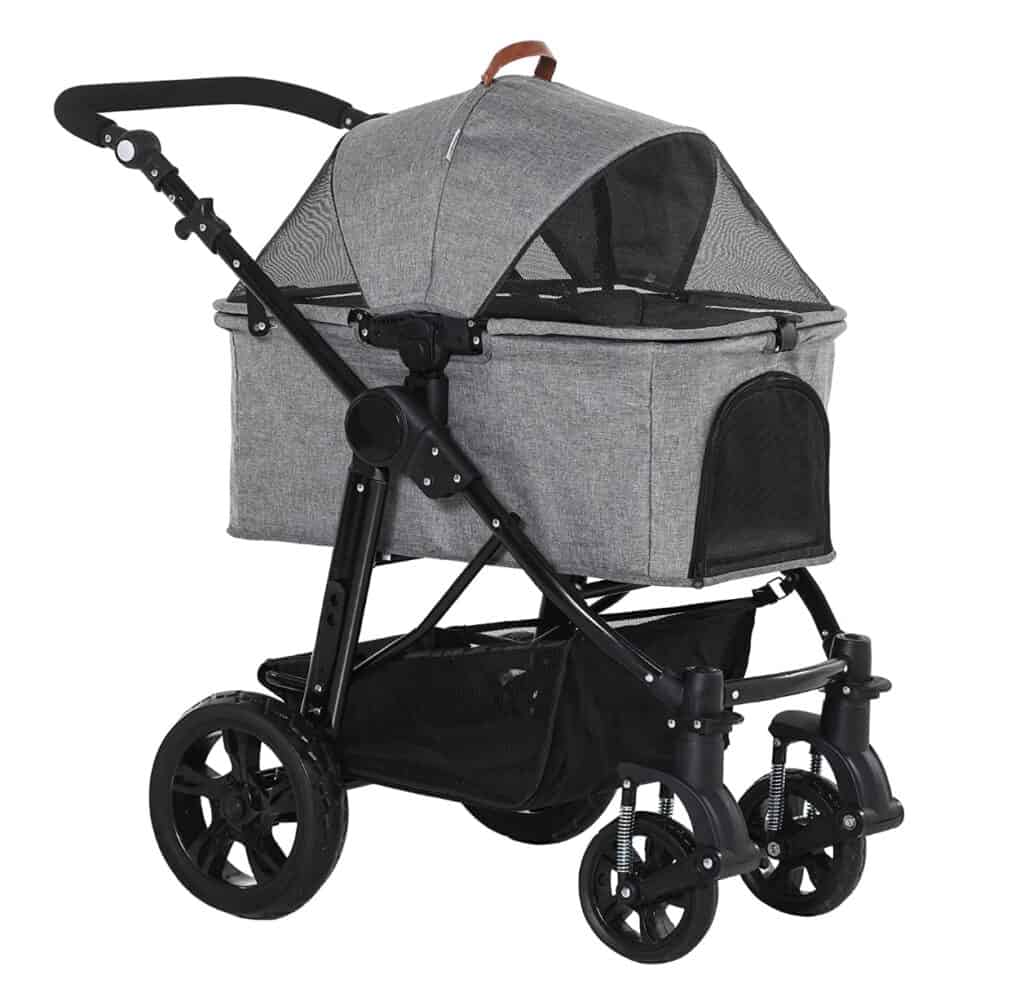 This is the actual stroller we bought and was delivered quickly, as everything is on Amazon. It was flat-packed but wasn't too hard to put together, as the actual cot section can be lifted off, and the base collapses down for storage.
The front wheels move around 360 degrees and the rear, larger wheels are stationary, which makes it easy to maneuver. There is a handy basket underneath for your shopping and the handle is adjustable.
However, we did have a bit of trouble with it. As soon as we got it, my daughter wanted to take Lady for a walk to test it out. As soon as Lady got tired, she popped her into the cot and started strolling around the park.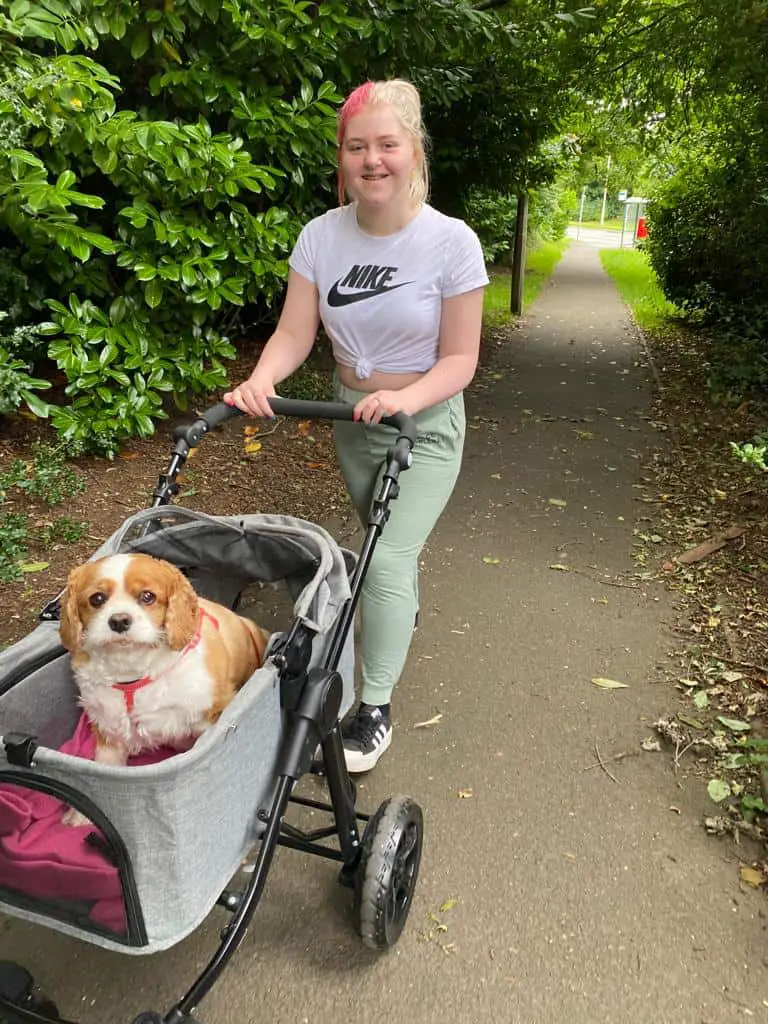 On her way home, she crossed the road accidentally caught it on the curb, and damaged one of the front wheels, which in turn damaged the front suspension.
So I contacted PawHut, the manufacturer of the stroller, and they couldn't be more helpful. They decided that there must have been a defect with that particular stroller, as their others had withstood rigorous testing. As a result, they send out a completely new stroller at their expense and told us to keep the old one too. Amazing customer service.
In London
When we were walking around London, as soon as Lady got tired we'd pop her in the stroller, and the reactions we got were unbelievable.
At first, I was a bit embarrassed, but Sarah didn't care and was enjoying every minute of it. Then people started to notice our fur baby in there, and they were amazed. Strangers were asking if they could take a photo, and cars were stopping in the street to take a second look, as they couldn't believe their eyes.
We didn't buy it for the attention, but it certainly got a lot of it. Lady absolutely loves it too. It means we can go for long walks again, and when her little legs get tired she can have a rest.
There is a handy cover to protect them from bad weather and a meshed area at the front that zips down for them to see what's going on when they are lying down.
All in all, this was an excellent purchase, and I would recommend it to anyone.