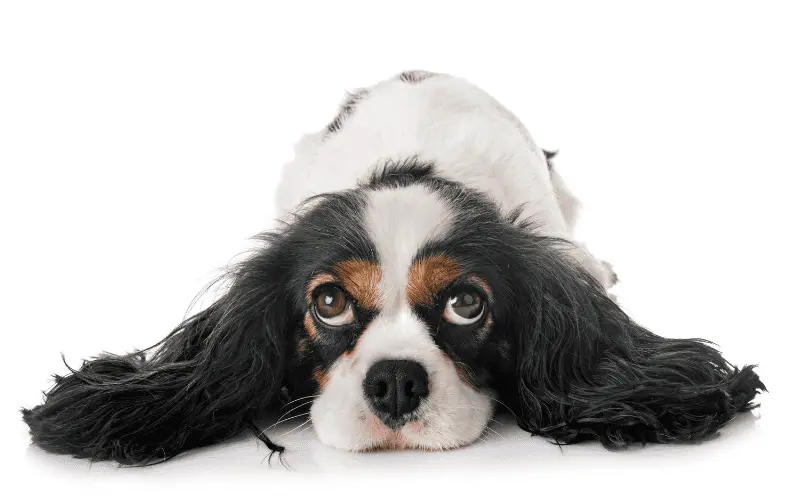 Floppy-eared dog breeds, like the Cavalier King Charles Spaniel, have unique charm and appeal. However, their adorable ears can create a few challenges during mealtime, as they often dip into their food and water bowls.
Keeping their ears clean and away from food is important for their hygiene and health.
Various products and techniques are designed to help keep a dog's ears out of their food. Over the years, we've discovered that certain bowl designs, feeding accessories, and training techniques can make a significant difference in managing this issue.
When selecting a product or solution for your Cavalier King Charles Spaniel, it's important to consider factors such as the size of the bowl, the ease of cleaning, and the materials used. Safety is also a significant concern, as you'll want to ensure that whatever system you choose doesn't pose any potential risks to their ears or overall well-being.
Practicality and durability are also key considerations since you'll use these products daily.
Top Products for Keeping Floppy Dog Ears Out of Food
As fellow dog lovers, we understand the importance of making mealtime enjoyable and mess-free for our Cavalier King Charles Spaniels. That's why we've curated a list of the best products to prevent their floppy ears from dipping into their food.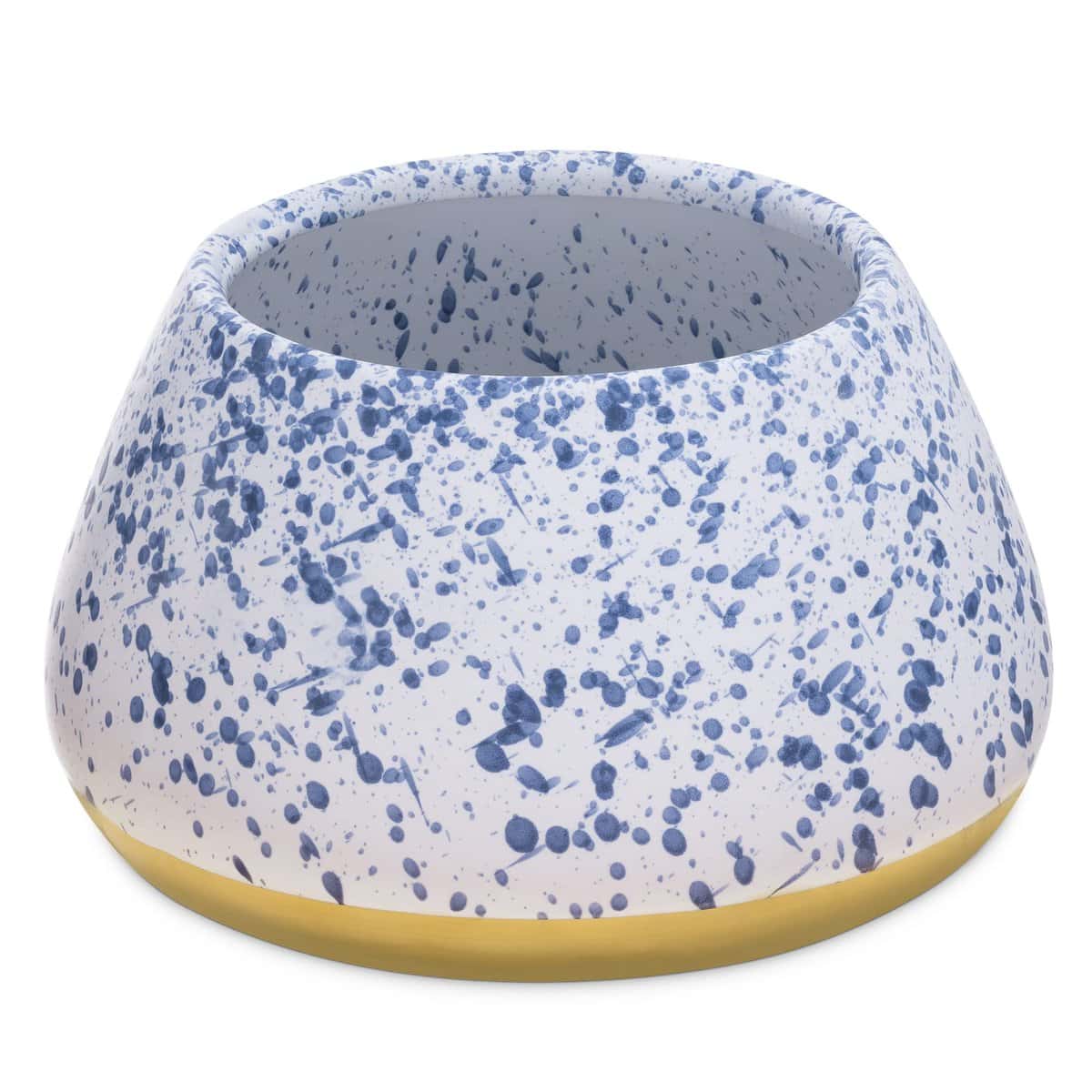 The Navaris Ceramic Dog Bowl is perfect for keeping your Cavalier King Charles Spaniel's ears clean during mealtime, with a unique design and convenient features.
Pros
Special design for long-eared dogs
Dishwasher safe for easy cleaning
No spill feature
Cons
Might be too large for some pets
Ceramic material may be heavy
Limited color options
The unique shape of the bowl ensured our beloved pet's floppy ears stayed clean and dry during mealtime, making our lives and theirs a bit easier.
In addition to its special design, it is easy to clean the bowl as it is dishwasher safe. This makes regular maintenance a breeze, which means more time is spent enjoying the company of your dog and less time cleaning up.
However, the bowl might be too large for some pets, and the ceramic material can be heavy. But thanks to its weight, the bowl will remain stable while your dog happily eats or drinks from it.
Another minor drawback may be the limited color options, but the white with blue speckles design is modern and stylish.
We recommend this breed-specific dry dog food for those seeking optimal nutrition for their Cavalier King Charles puppies or adults (there are two variations).
Plus, as it is dry food, their ears won't get covered in the food they eat.
Our Cavalier also likes to move away from the bowl to finish her mouth full of food (this is related to the pack mentality from their ancestors), which doesn't cause a mess with kibble, unlike canned meat.
Pros
Specially formulated for Cavalier King Charles puppies or adults
Unique kibble shape for easy pick-up and chewing
Promotes heart health, immune system support, and healthy digestion
Cons
A bit expensive compared to other dog food brands
Hardness may not be suitable for all puppies
The flavor might not appeal to all dogs
Our Cavalier didn't have these as a puppy; she ate them in adulthood. Now she's a senior dog; she had to move to a low-fat kibble for health reasons.
The carefully developed formula, which is breed specific, provides the necessary nutrients for your Cavvy's immune system, heart health, and digestive support during the crucial puppy stage.
They are available for other breeds, too, so don't be disheartened if you don't have a Cavalier.
We must point out that the kibble's hardness might not suit all dogs. For instance, eating may be painful if your dog has gum problems or tooth decay. In terms of flavor, the taste may not appeal to every dog's palate, and it's also a bit pricier when compared to other dog food brands.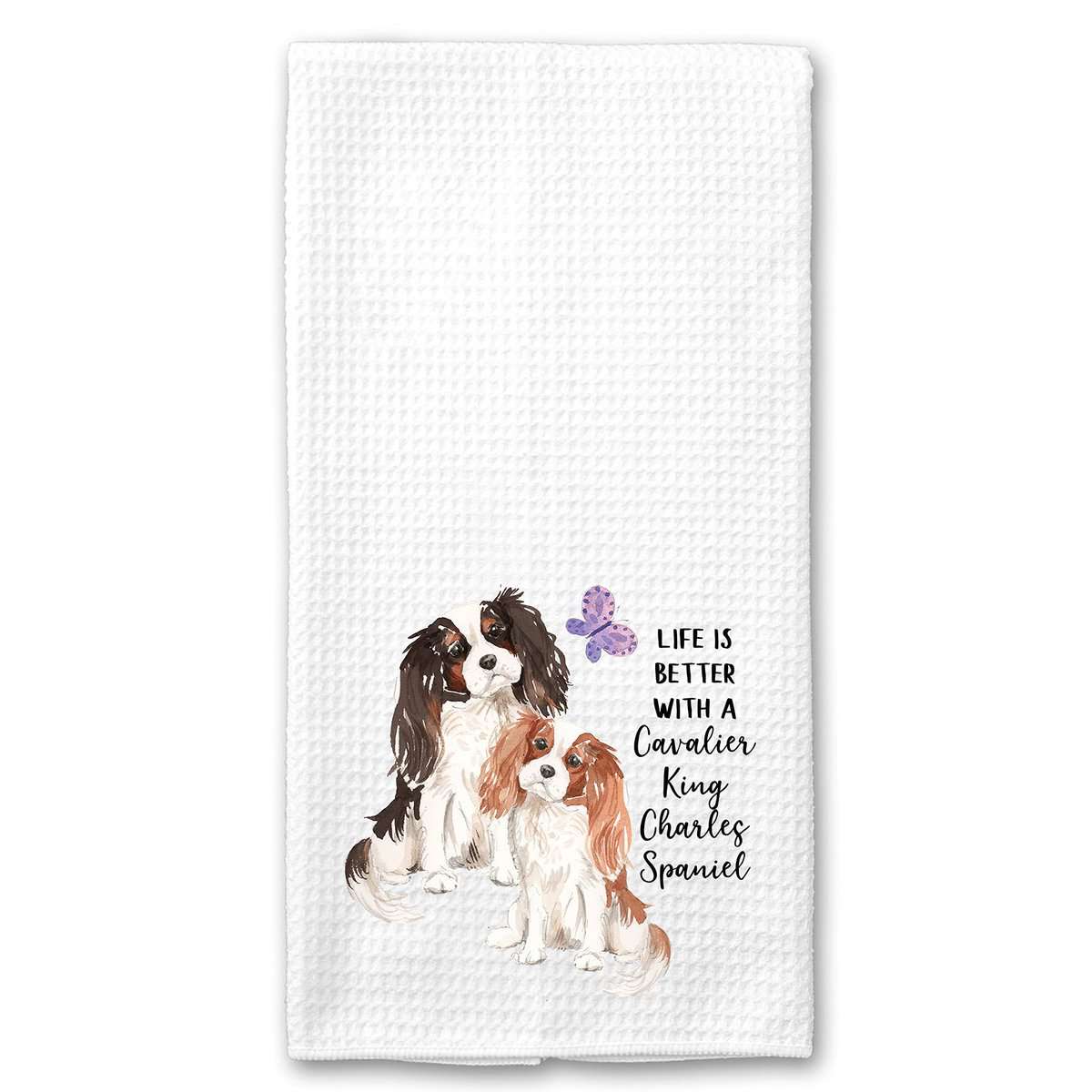 This towel is a charming and functional addition to any Cavalier King Charles Spaniel owner's kitchen.
Pros
Lint-free, scratch-free, and streak free
Durable dye sublimation design that won't fade or peel
Machine washable with an upgraded edge that won't unravel
Cons
Only available in one size (16 x 24 inches)
Limited color and pattern options
May not be suitable for those who prefer a thicker, more absorbent towel
As Cavalier King Charles owners ourselves, we appreciated the cute, artistic design featuring this beloved breed. Even if you never use it (it's too nice to be used, in my opinion), it can be a fun decorative piece.
The microfiber material is perfect for wiping down countertops, cleaning dishes, drying hands or wet ears.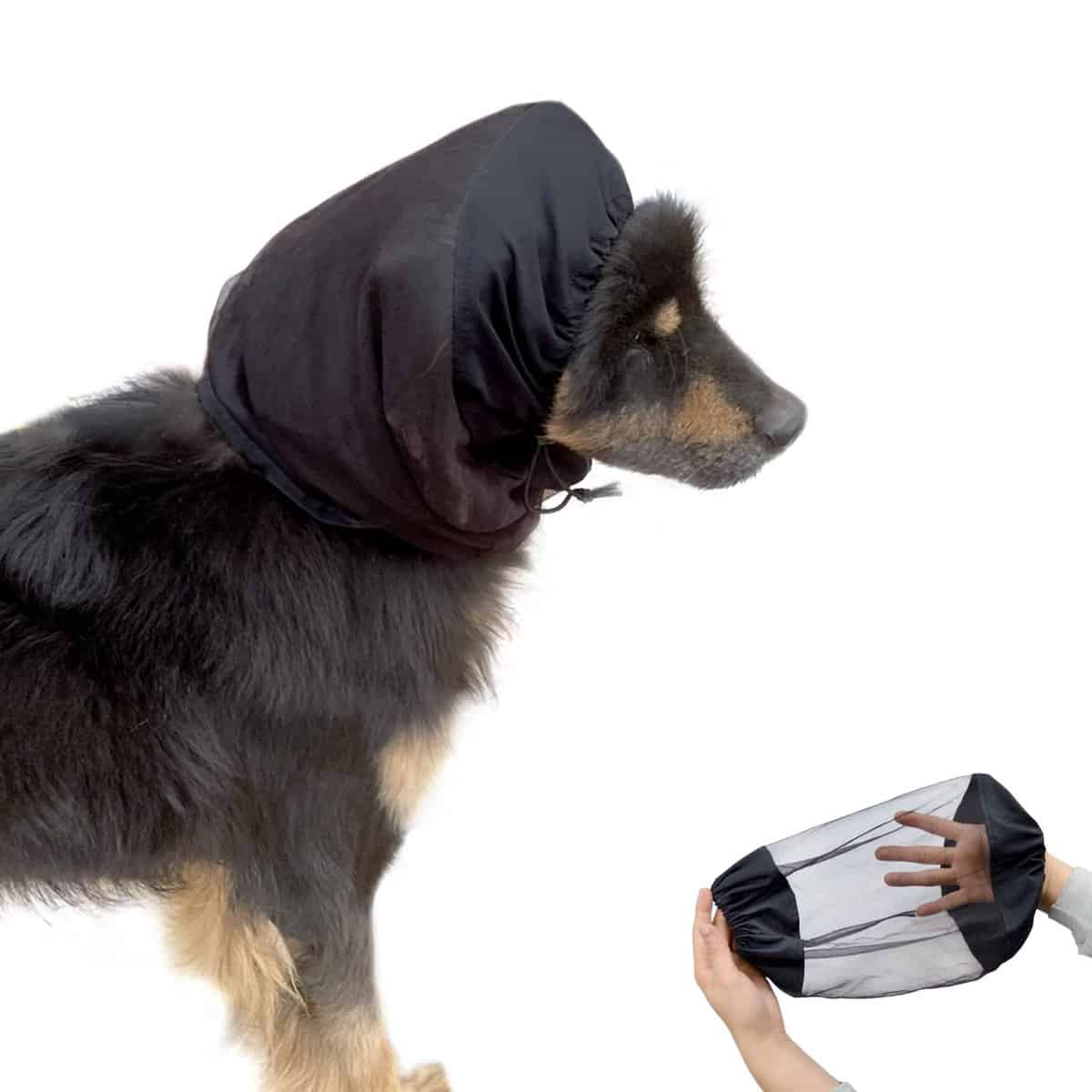 This dog snood set is a decent option for keeping your Cavalier King Charles Spaniel's ears clean, though it could be more comfortable for the dog.
Pros
Designed specifically for long-eared dog breeds
Breathable mesh material
Prevents ears from falling into food or water
Cons
May feel uncomfortable for some dogs
Ears can appear flattened
Elastic bands might not hold up well
This snood is designed specifically for long-eared breeds. Although it protects dogs' ears from messes while they eat and drink, I wouldn't purchase one for our dog. She is a nervous dog, scared of her shadow, so I think this would put her off her food.
However, one feature that stood out about this dog snood is its breathable mesh material.
I suppose it would work well on muddy walks, too. One of my previous dogs was an English Cocker Spaniel, and he had enormously long ears. In winter, he would snuffle the ground dragging his ears in the muddy puddles. This would have been excellent for him.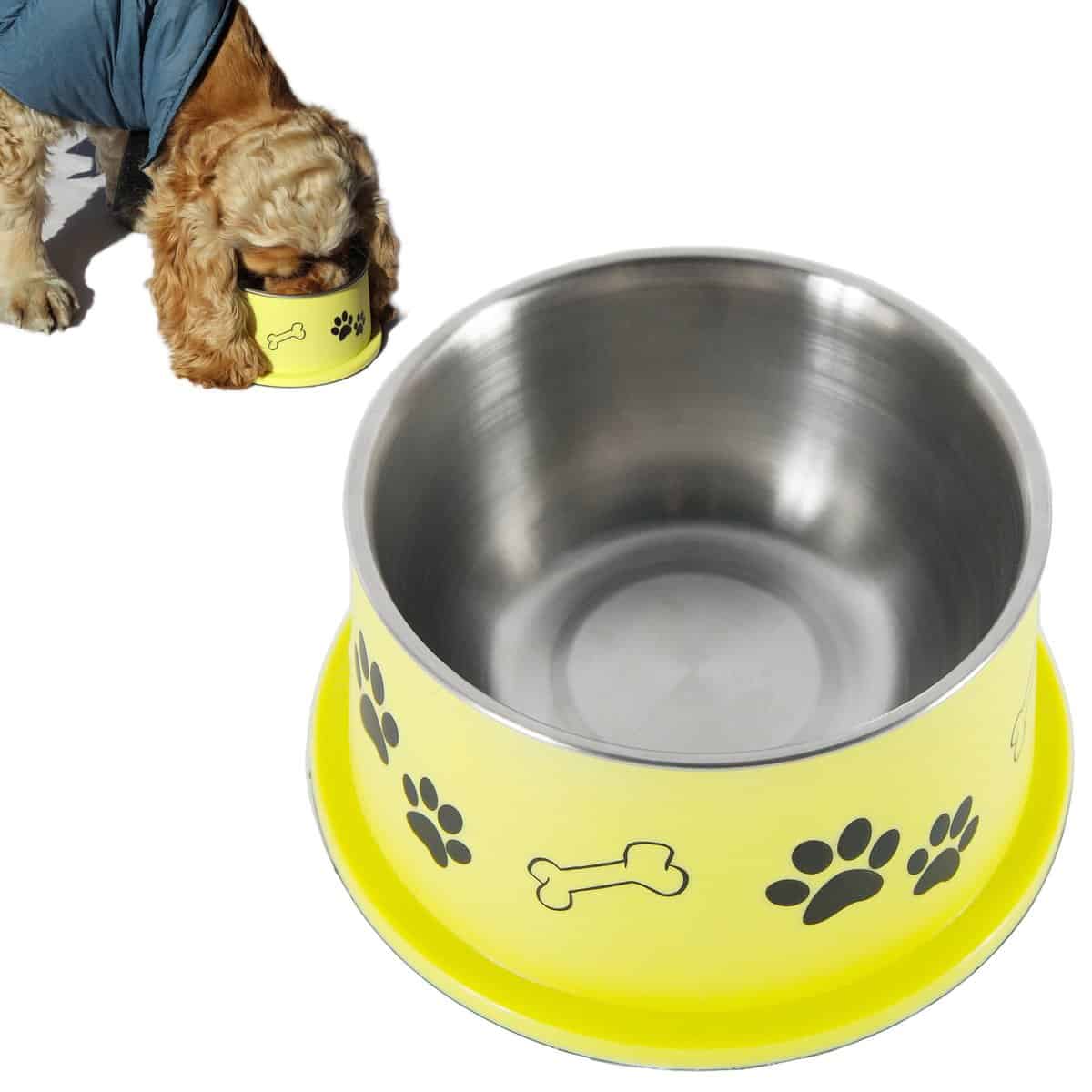 The PETish Spaniel Bowl could be a great buy for Cavalier King Charles Spaniel owners to keep their dog's ears clean and dry during mealtime.
Pros
Designed specifically for long-eared dogs
A high and deep bowl keeps food and water inside
Non-skid rubber bottom and stainless steel material for durability
Cons
May need refilling often due to its size
Some reviewers reported the bowl was not correctly attached to the base
May not work for every dog
The high and deep elevated design prevents food and water from spilling out, which is a major plus. Also, the stainless steel material will be easier to clean and will last a long time, while the rubber bottom provides a skid-proof surface for your dog to eat and drink without any hassle.
However, it's essential to mention that some users have experienced issues with the bowl not being properly attached to its base, which may not work for every dog. Also, due to the compact size of the bowl, you might need to refill it often, depending on the amount your dog consumes.
Buying Guide
As dog lovers, we understand the struggles of keeping our Cavalier King Charles Spaniels' floppy ears out of their food. We have bought countless items to counteract it, so we know what features to look for when choosing the best product to keep your dog's ears clean and dry during mealtime.
First and foremost, consider the material of the product. Look for durable, easy-to-clean materials, such as silicone or waterproof fabric. The material should be non-toxic, safe for your pet, and resistant to wear and tear.
Size and adjustability are crucial factors, too. Ensure the product can be adjusted to fit your dog's head snugly and securely. A product that comes in different sizes or is highly adjustable is preferable, as both large and small spaniels may face the same issues.
Another important aspect is the ease of use. The product should be simple to put on and take off without much hassle or need for assistance. Your dog should also be comfortable wearing the product, so features such as soft inner linings or padding are a bonus.
Finally, think about the maintenance and cleaning of the product. A product that can be easily wiped clean or machine washed will save you time and effort, making it a more convenient choice.
Top Features to Consider
To summarize, here are the features you should look for when choosing a product to keep your Cavalier King Charles Spaniel's ears out of their food:
Material: Non-toxic, durable, and easy-to-clean
Size and adjustability: Fits securely on your dog's head, accommodating to both large and small breeds
Ease of use: Simple to put on and remove, comfortable for your pet
Maintenance and cleaning: Easily wiped clean or machine washed for convenience
By considering these factors, you'll be able to find the perfect solution to keep your dog's ears clean and dry during mealtime.